If you fancy yourself a maestro at masterfully reading the flow of a game of football or an expert statistician looking at graphs to determine the outcome of future matches, then perhaps your destiny lies with sports betting.
But if you're a relative beginner at the art of betting on your favourite sporting team, picking the right platform to put your funds into can be a rather daunting affair.
Fret not, for we're here with yet another review to enlighten you on the wonders that the sportsbook industry has to offer.
Meet CMD368, the largest sportsbook platform in Malaysia.
A Brief Look At CMD368
Established in Cambodia in 2016, CMD368 was certainly a welcomed addition to the highly competitive online gambling market in Southeast Asia at the time. It was also due to a lack of options in the sportsbook section during that period of time that has made CMD368 flourish into what it is today.
CMD368 is a recognized and licensed entity by the Government of Cambodia as well as the First Cagayan of the Philippines.
And as mentioned, CMD368's bread and butter lie with its sportsbook platform. Here, you may choose to place wagers on a number of different betting options like Asian Handicaps or Total Goals. Likewise, the platform is the perfect option for your entertainment if you like to have more control over the type of bets that you place.
In terms of looks, the CMD368 site is simple and straightforward. Yet, as it is a sportsbook platform at its core, the interface also sports (get it?) an athletic look decorated with white and blue palettes. And although it may not be as fancy as other online casinos, the functionality is still very much present. The interface is intuitive and doesn't at all distract from the gaming experience.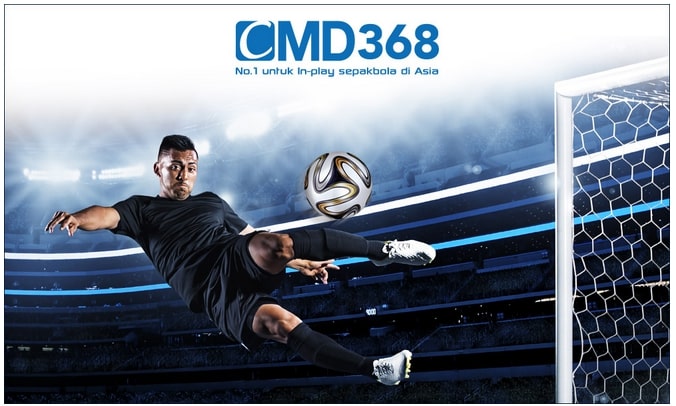 CMD368 Products
Despite the fact that CMD368 has made its name in the sportsbook industry, it isn't necessarily limited to this market segment — as can be seen by the various products offered by the company.
CMD368 Sportsbook: There are three sections on the sportsbook portion of CMD368 — e-sports, virtual sports, and sporting events. Punters will be able to place wagers on a few types of bets including the aforementioned Asian Handicap, as well as Over & Under, Odd & Even, 1×2 Fixed Odds, Correct Score, Total Goal, and more. Sports covered here include but are not limited to football and basketball, as well as online e-sports tournaments covering games like League of Legends and King of Glory.

CMD368 Casino: To provide the best games to its players, the company has partnered with many providers over the years to build the CMD368 online casino. Specifically, CMD368 has so far worked with 11 live casino partners including AG, AE Sexy Casino, DG Casino, and more. And you can expect to take part in popular live casino table games like baccarat when you play here.

CMD368 Games: While CMD368 is still very much a sportsbook platform first and foremost, the team is still passionate and working hard on expanding the company's repertoire. At the moment, CMD368 is still upgrading this section from its initial offering of games provided by nine partner developers. CMD368 understands that this is an important segment for players who want a diverse gaming experience. This is also one of the reasons why the company has decided to collaborate with other big names in the market like GPI, MG, Playtech, and Pragmatic Play. As for game recommendations, you can't ever go wrong with slot titles like Fire Strike, Playboy, and Highway Kings.

CMD368 Fishing: This genre is pretty much self-explanatory — it's all about fishing! Otherwise, you could also say that this is an extension of the CMD 368 Games category with only fishing games available to play. As for the games, you'll be able to enjoy a few fishing games that have been generously contributed by four developers — Fishing War and Fishing God from Spadegaming, Fishing World from Big Gaming, and Cash Fish from Playtech. 

CMD368 Lottery: CMD368 offers fans of lottery and keno the chance to earn a windfall when they play here. Currently, there are three different types of lotteries available on CMD368: QQKeno, QQ Thai Lottery, and Ok368.

CMD368 Poker: This section is powered by IDNPoker, a well-known online poker supplier in the region. As players, you'll also be able to participate in the tournaments that IDNPoker organises from time to time for additional rewards! 
Promotions & Bonuses on CMD368
Members will be able to access CMD368 promotions and bonus codes upon confirmation and verification of their accounts. However, most players seem to lean more towards the sportsbook bonuses. Even if you are a sportsbook-only player, members will still be able to benefit from the Live Casino bonuses, Slots bonuses, and Fishing bonuses offered by CMD368.
These promotions have a limited time so make sure you use them before they expire. You won't be disappointed as long as you remain active and keep up with their latest promotions. You can also refer friends and family to CMD368 and earn referral rewards in the process.
Lastly, the VIP Club members section is where you'll find exclusive promotions for VIP Club Members.
Exceptional Customer Care The CMD368 Way
The way a service treats its clients and customers is what makes or breaks a company these days. Thankfully, the platform has a proven track record in the customer service department with more than 200 employees and qualified experts who can provide you with 24/7 support, 365 days a year.
Have a query? To voice your concerns, you can simply pick up the phone or use one of the many available channels to get in touch with a support rep. Every customer service representative will treat you with the utmost respect and will do everything in their power to help you address any issues you may face while playing on CMD368.
Payment Options on CMD368
So far, it would seem that CMD368 is the perfect sportsbook platform. Well, this is one of CMD368's only drawbacks at the moment — the inconvenient and limited banking options available. Specifically, only local bank transfers and payment gateways such as EeziePay or Paytrust88 are available when you want to transact with CMD368.
Also, you will need to complete a form each time you want to withdraw your funds which can take between 5 and 15 minutes to approve, disregarding the time taken for your account to be credited. But apart from those points that can be easily improved upon, CMD368 is a great option for all your sports betting needs.
Industry Standard Security At CMD368
Last but certainly not least, security is always an important aspect to take into account when you pick an online platform — and more so when it comes to platforms that deal with your hard-earned money.
CMD368 epitomizes security and reliability with the various contingencies it has in place. Firstly, you can be assured that CMD368 servers and player data are securely kept and encrypted in order to avoid leaks. 
Moreover, CMD368 has successfully obtained licensing from The Cagayan Economic Zone and Free Ports. What this means is that the company is operating in line with rules and regulations set forth by the Government of the Philippines. This means that everything that you do on CMD368 is legal and transparent!